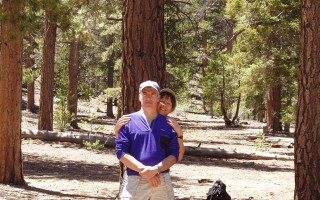 Hi everybody,
What a long and crazy road it's been!  My foot is healing very well but a new issue has arisen:  serious back problems.  I am following through with physical therapy on my foot and my back three times a week.  There is some relief provided by meds and ibuprofen.  Since I last posted I have had three rounds of trigger point steroid injections in my lumbar area.  They provided some relief but the pain always returns within a week or so.  On the horizon next week – a visit with a spine specialist to see the treatment plan for the future and hopefully, avoid surgery.
Meanwhile, a lot my downtime has been increased involvement in our studio, Clay Arts Vegas.  We have been open since June and are gaining momentum every day.  In a centralized downtown location, Clay Arts Vegas is offering classes in hand built – wheel thrown ceramics, and firing on site in high fire, raku, and alternative type firings.  Our gallery supports local artists, students, and a national presence that has contributed to several juried exhibits.  We are also the only Laguna Clay distributor in Las Vegas, carrying a number of popular clays, glazes, and tools. Mary and I both are very proud to be co-founders of this amazing studio.  A number of projects that we have been involved in have brought us a lot of attention with local news media.  Checkout our facebook page at https://www.facebook.com/clay.artsvegas.9
One of the most important projects Clay Arts Vegas is involved in is One Million Bones Nevada.  We were asked to participate in this public art project that will take place in June of 2013 and be installed on the National Mall in Washington DC.  Our studio is offering demos on how to make bones out of clay, we fire them, and a portion of the clay costs is contributed to CARE for the rebuilding of African nations affected by the genocide of their population.   The Bezos family, a philanthropic organization, has committed to donate $1 for every bone made.  The goal for Nevada is 12,000 bones at last count.  We hope to exceed it!  Checkout the recent article in the Las Vegas Review Journal here:
http://www.lvrj.com/view/clay-bones-project-to-lay-bare-the-global-issue-of-genocide-169278046.html
My own work continues with completion of a commission works, sales of pottery from our Gallery Store, projects in bronze, clay, mixed media, and paintings on canvas.  My Etsy shop is not quite up yet due to too many physical impediments.  The photography of flatwork seems to take forever!
New! I have added some social networking links to my facebook, LinkedIn, twitter, and Etsy sites.  Still some glitches in the facebook and LinkedIn sites but you can get a preview of my Etsy shop with that link.  I haven't really begun to tweet.  So that's rather empty right now.
Cheers to all,
Marc
ps.  more challenges with links above – just copy and paste into your browser and go from there