Less than a month away to the Las Vegas St
udio Tour. New high fire test glazes went into the gas soda kiln at Pottery West this weekend. Results should be available on Monday.
Working on getting the Etsy Shop up and running. The Etsy shop will allow on-line purchases of my work. The Henderson Press is to print an interview with me in my studio this month. There is also supposed to be an on-line radio talk show interview to run on 10-14. Check Lori Wilk's website pr@successipes.com If you are an artist on this tour in Las Vegas, it's a great opportunity for you to call in and add your comments about the tour.
You can find maps for studio locations on the LV Studio Tour Blog: lvstudiotour.blogspot.com
Of recent note: The replica of "Rise of the Midgard Serpent" is at Adonis Foundry in Alpine, Utah. It is being cast and will be ready for an approval meeting in the next 30 days. The finished work titled, "Rise of the Midgard Serpent, Resurrection" will be a table top version of the serpent that is permanently installed in The Woodlands, Texas. This will be a limited edition bronze casting in a polished finish.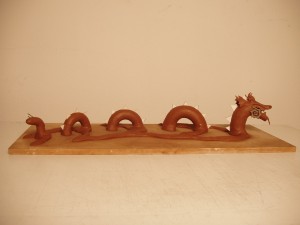 Click image to enlarge. This is the clay model that will be cast. Note in the final version, the "waves" were eliminated to produce a more stylized look. Approximate size: length 30″, height 4″.