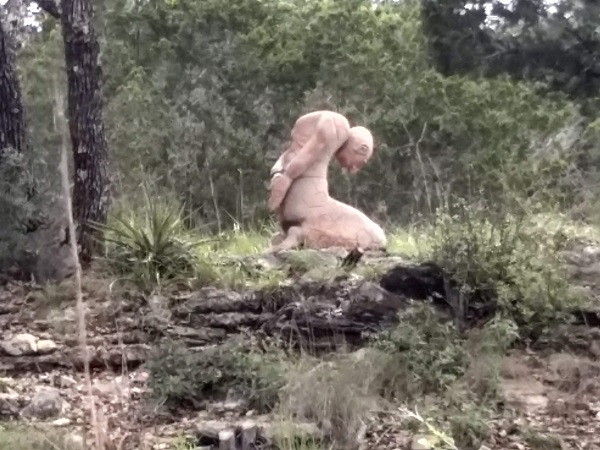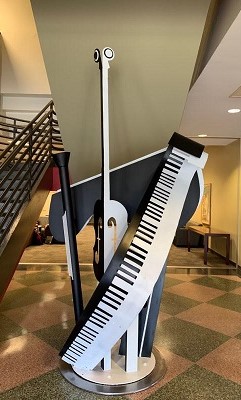 In January, my sculpture Symfonix, was installed in the front lobby of the Moores School of Music on the main campus of the University of Houston. This work was commisioned by Fredell Lack and Ralph Eichhorn and was to be installed at their home in The Woodlands. The work was completed in 1991 but never installed. But that's another story. It was eventually moved to the home of Ardis Eichhorn, their daughter. Ralph passed a few years ago and later, Fredell did as well.
In honor of Fredell's many accomplishments and fifty years teaching at the Moores School of Music, Ardis and her Brother Eric chose to donate the sculpture from their mom's estate. It had survived a couple of hurricanes and at least two floods but it was in much need of repair and restoration. With the help of Ben Woitena, restoration was completed in time for a dedication on January 21, 2019. The dedication and opening had a great turnout with lots of family and friends. A very good start for 2020.
After months of digging holes for posts, pouring cement into the holes, hanging joists and beams to support a corrugated metal roof, installing lights and ceiling fans, and ultimately, sand setting 18″ x 18″ x 1 1/4″ concrete floor tiles, the terrace and roof were completed (9 months!) just before Christmas 2019. Mary and I and our neighbor Jeff did all the work ourselves. The space has become a wonderful al fresco dining area where we enjoy quiet breakfasts, lunches, and dinners by candle light. The other half of the space has been devoted to the kiln area where I will complete renovation of a top hat kiln for Raku firing. Originally it was manufactured with a ratchet and pawl set up to separate and raise the "hat" to remove red hot ceramic ware. After consulting with others who were using this style kiln it became apparent that the process of lifting the kiln top was too slow and left the ware exposed to the air temperature outside, thereby causing it to lose the essential moments needed to get ware out and into post reduction immediately. We decided it would be much safer for my back to use a winch to lift the kiln rather than a counterweight. However, in order to set that up, I will have to add additional support under the roof to allow the winch to drop a vertical line to the lifting cables. At this point, Comal County is in "lockdown mode" due to Covid 19. So that project may continue to be on hold.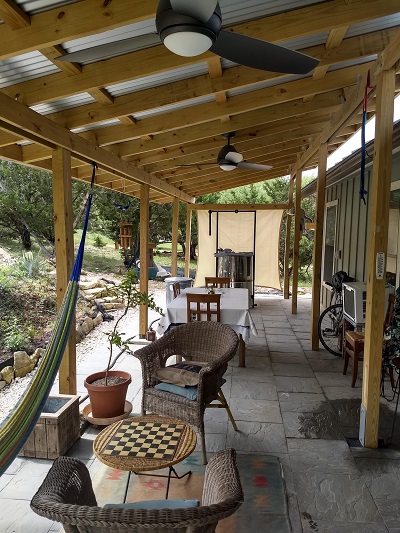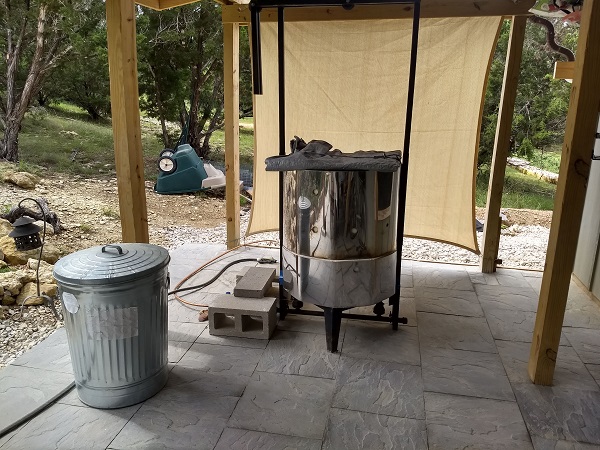 While we were scraping and leveling the area for the terrace floor we decided to dig trenches for French drains to control water flow around the property. New gutters enabled water to drip into two IBC style rain collection barrels each of which has a capacity of 300 gallons. You'd be surprised how fast these things fill up! We designed them with an overflow pipe so that when they overfill the excess goes down into the gravel surrounding the terrace. Below the gravel and completely hidden from view, are the French drains. And they do work, very efficiently! The water ultimately ends in our teardrop shaped front garden or into a side garden, each designed as a swale to capture water and allow it to cavitate into what little soil we have and into the rock beneath.
In February, two of my ceramic sculptures from my "Wing" series were exhibited at the new gallery at Inspired Minds Art Center in Buda, Texas. Check my page on Ceramic Sculpture re: Wing and Intrusions. Several of us artists from around the area were offering classes at the center, unfortunately mine didn't make even though I got my picture on the front page of the Hayes County Free Press. The new center had to close due to the Covid 19 outbreak and that has enabled me to put more focus to the body of work in progress. They have put together some online courses that are worthy to look at. Do check www.inspiredminds.art if you're interested.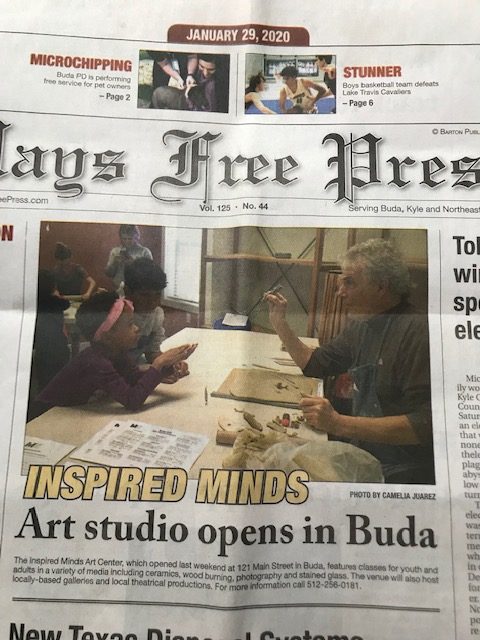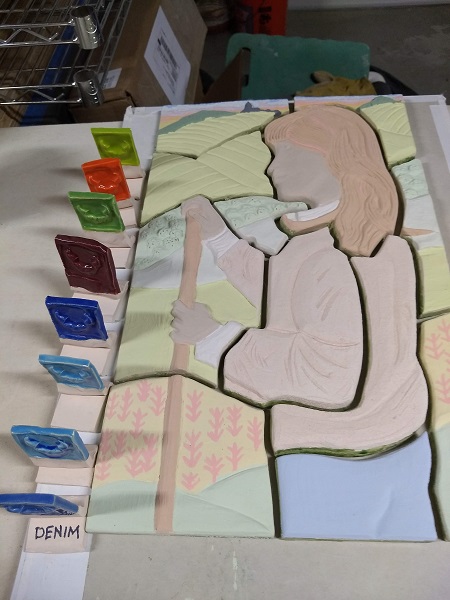 One of the projects that I'm at work on is the ceramic mural, Mackworth, a belated birthday present for Mary. This is one the first items that will be Raku fired in the kiln. I'm working on another mural from an image I took of Punta del Sur when we visited Isla Mujeres in September.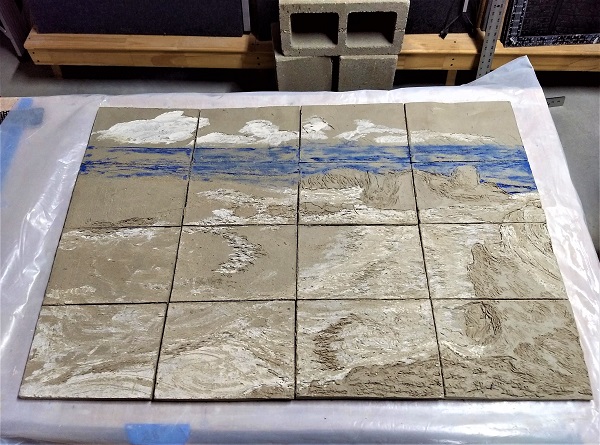 Another thing that happened was the sale of a piece from my studio days in Santa Barbara, California. It has found its forever home with dear friends Andy and Virginia Bally.