After five different iterations, two years of COVID, and three different trip attempts to travel to France to celebrate our 25th wedding anniversary, we finally were able to fly to Paris on May 3, 2022! Of course, by then it had become our 27th wedding anniversary. Mary's diligent work on this ever changing and challenging set of plans enabled us to save time and money.
The trip was also a celebration of Mary's birthday on May 5th. Due to a gigantic increase in the price of gasoline and the war in Ukraine, the intent to drive in France, Italy, and Spain had to be dropped and replaced with a month long journey by rail through France. We arrived at Charles De Gaulle Airport south of the city and rode the Metro with our luggage, which was a physical nightmare for me as the bag I had was very large and very heavy. It was a bear to grab this bag and lurch forward to try to get out in time as the doors opened and hundreds entered and left the train at the same time.
Chapter 1 – Paris
Our first stay in Paris was in a Hotel Particulaire. These are unique places to stay where the buildings have a distinct history and whose owners have spent much time in renovating to bring their hotels into places of comfort and community through Airbnb or Booking.com. This building's history went back to the 17th century. We were staying in the 10th arrondissement, a melting pot of people from west Africa, Iran or Iraq, Algeria, Turkey, Spain, and the UK. The hotel is a cluster of buildings originally designed for a very wealthy clientele, as it was owned by the Rothschilds. It was purchased from several generations of one family who renovated and restored it with improvements to accommodate travelers in the 21st century.
Amidst the hustle and bustle of the crowds outside, we were five minutes walk from a lovely covered market and the Gare du Nord. Entering the large wooden door from the street revealed a cool hallway that included a quiet courtyard and carved stone steps up to the front door. Another flight of stairs took us to the 1st floor. Overall, the feeling of quiet and peace surrounded us and even the incessant sirens of gendarmes didn't penetrate the calm. We were able to explore the neighborhood, walk to the metro, and discover numerous brasseries and cafés.
We visited the Musée de L'Orange and Monet's water lilies but we both were underwhelmed due to the crowds that blocked a decent view. Off to the Jardin deTuileries for a lovely lunch on a cloudy day.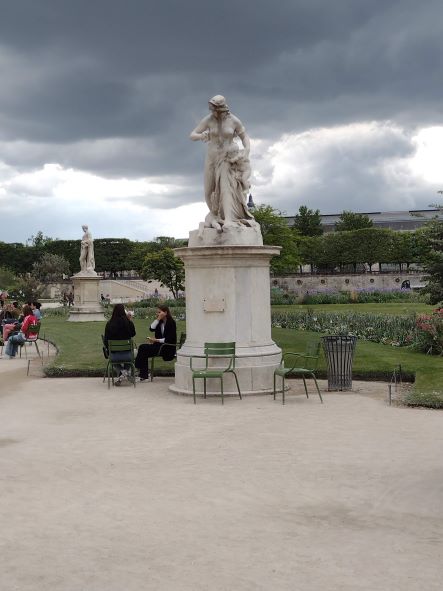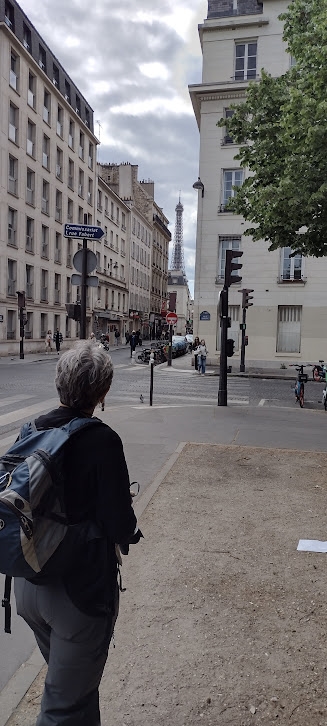 I had started studying the language well before we arrived. I was using 15 Minute French, which had a disc with local speakers sounding out the sentences. Much as this helped, it was pretty difficult for me to catch what people were saying because they were simply talking too fast and all I was able to understand was snippets. But I got better as our trip progressed. I was actually holding short conversations with Mary. Good idea to be able to talk to your wife.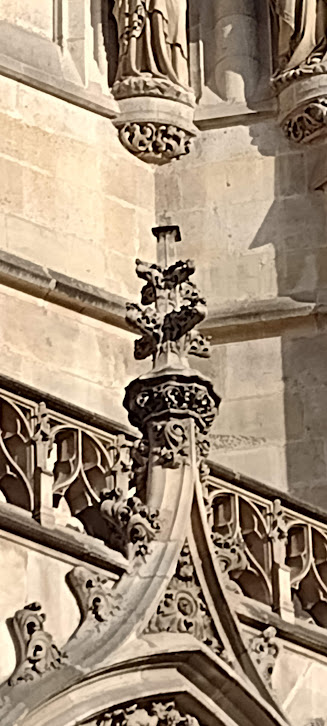 Towards sunset we made our way to the Ile de France, the island on the Seine that directly overlooks Notre Dame. I stopped to sketch the view on the bridge while Mary walked ahead of me taking hundreds of photos. Surprisingly, she was able to edit out all but ten each day. And it was a beautiful evening. There were numerous people about eating and drinking in the bistros. There were also small groups of people who had brought their own food and drink and lounged on the quay by the water. There was also a familiar smell of marijuana wafting through the air. It's not something gendarmes bother with.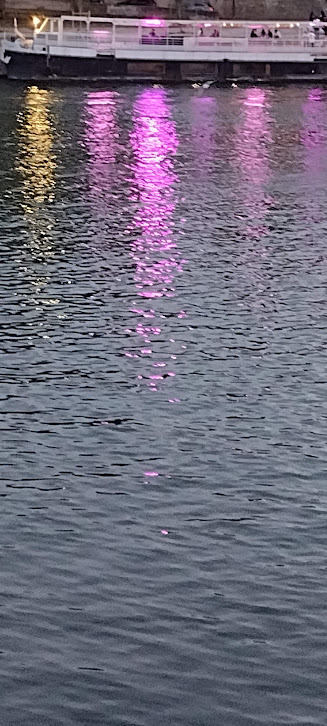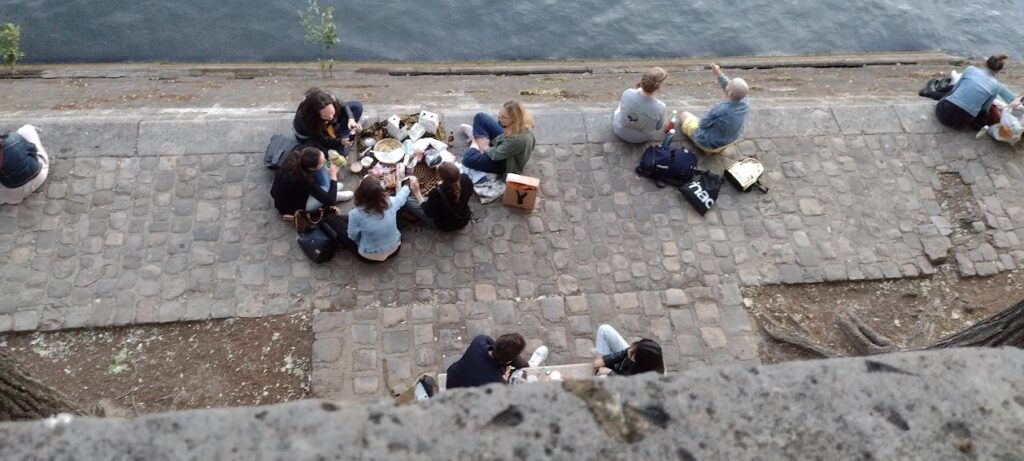 It was one thing to enjoy the sunset and the surroundings but after walking a good three miles I had to find a restroom and they weren't easy to find. We crossed back over the bridge and walked at least 500 yards to find a public restroom and I had to wait while someone was in it. Unfortunately for him the automatic door closure wasn't working and it kept opening while he was trying to pee. That wasn't going to work for me. We re-crossed the bridge and decided to go into a bar and buy something so we could use the restroom. The manager said to just sit in the bar room and we could use the restroom without buying anything. Lucky us. In Paris, if you have to go, don't go to a public restroom.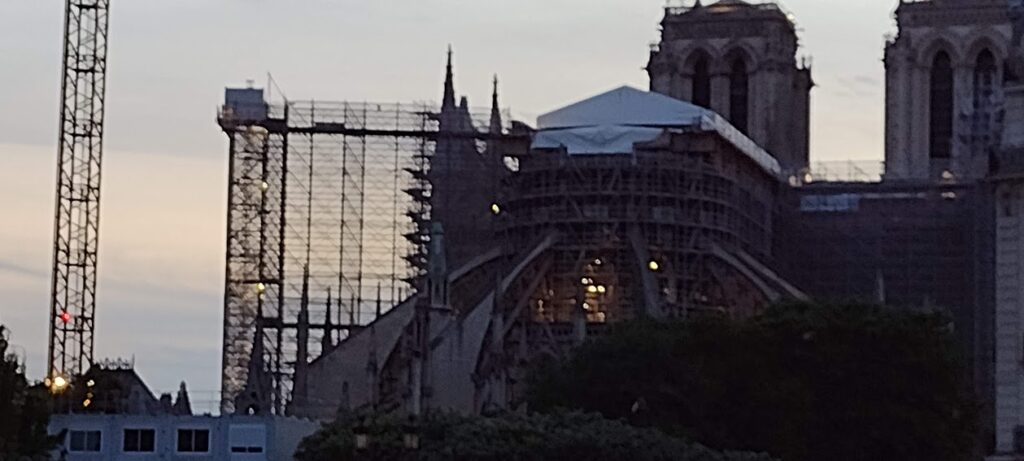 It was a sad view to see the remnants of Notre Dame after the horrendous fire that occurred in April of 2019. It will take a miracle for Macron to keep his promise of having it restored by 2024.